Here it is, the beginning of my personal Bible study posts here. I am choosing the book of Romans to start with, and I am using SOAP as my tool to share what I learn. I often find the SOAP method to be the best way to move along quickly while finding a lesson in each reading.
I hope to SOAP through each chapter, one week at a time.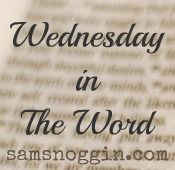 Scripture:
Though they know God's decree that those who practice such things deserve to die, they not only do them but give approval to those who practice them.  Romans 1:32
Observation:
The previous verses talk about a whole bunch of illicit stuff going on that is against God's natural order of relationships. I won't get into it as this is a family friendly blog. You know what I'm talking about though, and we are seeing it everywhere in today's society.
Mixed within all of that "super bad stuff" are a few "lesser sins" and some other big ones:
They were filled with all manner of unrighteousness, evil, covetousness, malice. They are full of envy, murder, strife, deceit, maliciousness. They are gossips, slanderers, haters of God, insolent, haughty, boastful, inventors of evil, disobedient to parents,  foolish, faithless, heartless, ruthless.

Romans 1:29-31
Which certainly aren't as bad as what is going on in verses 24-28, right?
It seems to me that the grouping of all of these things show that ALL who:
…[do] not honor him as God or give thanks to him…[become] futile in their thinking, and their foolish hearts [will be] darkened.

Romans 1:21
Application:
If my heart is darkened, I will die spiritually. I should never look at another and compare myself spiritually with them, or assume that they are more sinful than I am. If I am "honoring and thanking Him" spending my time in prayer and study, and sharing the Gospel with others, I won't have time to compare.
Prayer:
Heavenly Father, please help me to always look inwardly at my faults and ask for your help in being a stronger Christian. Help me to always look to You for answers and never minimize my need to do better by comparing myself to others. Help me to love others enough to lift them up, and not try to push them down. Amen.
Would you like to join me? I'd be happy to set up a linky for you to post before next Wednesday!
© 2012, Sam. All rights reserved.
0