Welcome to week two as I SOAP my way through The Word. Right now I am in the book of Romans, hitting it pretty hard as my study all week, each week. Today I have chosen verse 15.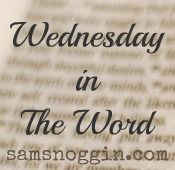 Scripture
They show that the work of the law is written on their hearts,while their conscience also bears witness, and their conflicting thoughts accuse or even excuse them…

Romans 2:15
Observation
We show what is written on our hearts outwardly, usually. Open mouth, out comes what our heart says. But our thoughts can also accuse or excuse us, and only God knows our thoughts other than us.
Application
I don't struggle with evil thoughts, but I do struggle with thoughts of doubt and good feelings about myself. I don't think that is in any way helpful, and I know the Lord has better for me to fill my time with.
I have to keep telling myself:
Finally, brothers, whatever is true, whatever is honorable, whatever is just, whatever is pure, whatever is lovely, whatever is commendable, if there is any excellence, if there is anything worthy of praise, think about these things.

Philippians 4:8
Prayer
Father in heaven, please help me to remember that I am here for a reason, and You have work for me to do. Help me to concentrate on my relationship with You each day. Amen.
I hope you'll join me! What did you learn this week?
© 2012, Sam. All rights reserved.
0