Do you ever read chapters of the Bible and want to scream for people to open their eyes and read?? That is how I feel when I read this chapter in 1 Corinthians.
The world has turned such a blind eye to truth, and to goodness. It makes my heart heavy with sadness, and sometimes really creeps me out.
Scripture:
Or do you not know that your body is a temple of the Holy Spirit within you, whom you have from God? You are not your own, for you were bought with a price. So glorify God in your body.

1 Corinthians 6:19-20
Observation:
This entire chapter deals with sexual immoralty, and also drunkeness and idolaters. The Bible is very clear about alternative lifestyles. They are a choice. How do I know that?
And such were some of you. But you were washed, you were sanctified, you were justified in the name of the Lord Jesus Christ and by the Spirit of our God.

1 Corinthians 6:11
Application:
I was bought with a price. What I do while I am in this flesh matters. I need to glorify God in my actions and my behavior and my heart.
How do I find the kind of heart that glorifies God? By reading His Word. Doing His will, not man's.
Prayer:
Father help me to always seek the good, even when it is difficult. Make me strong so that I may face whatever comes in these confused times. Help others to see the error of their thinking, especially those who claim to follow You, but do not. Amen.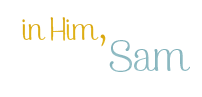 © 2013, Sam Kelley. All rights reserved.